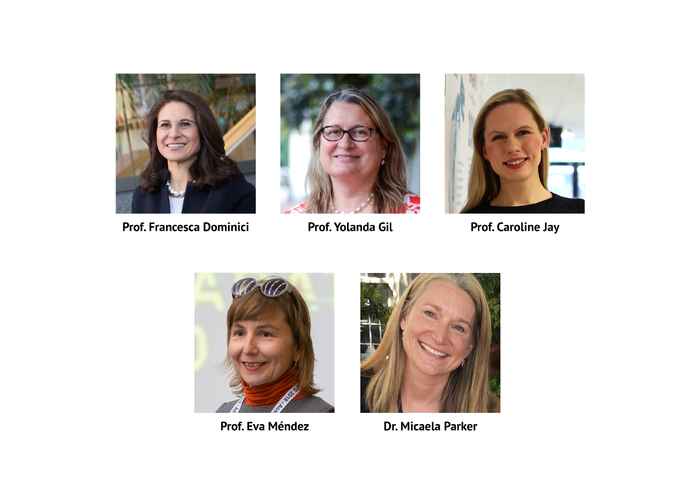 Prof. Francesca Dominici
Director of the Harvard Data Science Initiative, at Harvard University and the Clarence James Gamble Professor of Biostatistics, Population and Data Science at the Harvard T.H. Chan School of Public Health.
Francesca Dominici is an elected member of the National Academy of Medicine and of the International Society of Mathematical Statistics. She leads an interdisciplinary group of scientists with the ultimate goal of addressing important questions in environmental health science, climate change, and health policy. Dominici has provided the scientific community and policy makers with robust evidence on the adverse health effects of air pollution, noise pollution, and climate change. Her studies have directly and routinely impacted air quality policy.
Dominici has published more than 220 peer-reviewed publications and was recognized in Thomson Reuter's 2019 list of the most highly cited researchers – ranking in the top 1% of cited scientists in her field. Her work has been covered by the New York Times, Los Angeles Times, BBC, the Guardian, CNN, and NPR. In April 2020, she was awarded the Karl E. Peace Award for Outstanding Statistical Contributions for the Betterment of Society by the American Statistical Association. Dominici is an advocate for the career advancement of women faculty. Her work on the Johns Hopkins University Committee on the Status of Women earned her the campus Diversity Recognition Award in 2009. At the T.H. Chan School of Public Health, she has led the Committee for the Advancement of Women Faculty.
Prof. Yolanda Gil
Senior Director for Strategic Artificial Intelligence and Data Science Initiatives at the Information Sciences Institute of the University of Southern California, Research Professor in Computer Science and in Spatial Sciences, and Director of Data Science programmes and of the USC Center for Knowledge-Powered Interdisciplinary Data Science.
Yolanda Gil received her M.S. and Ph. D. degrees in Computer Science from Carnegie Mellon University, with a focus on artificial intelligence. Her research is on intelligent interfaces for knowledge capture and discovery, which she investigates in a variety of projects concerning scientific discovery, knowledge-based planning and problem solving, information analysis and assessment of trust, semantic annotation and metadata, and community-wide development of knowledge bases. Dr. Gil collaborates with scientists in different domains on semantic workflows and metadata capture, social knowledge collection, computer-mediated collaboration, and automated discovery.
Dr. Gil is a Fellow of the Association for Computing Machinery (ACM), the Association for the Advancement of Science (AAAS), and the Institute of Electrical and Electronics Engineers (IEEE). She is also Fellow of the Association for the Advancement of Artificial Intelligence (AAAI) and served as its 24th President.
Prof. Caroline Jay
Research Director at the Software Sustainability Institute and Head of Research in the School of Engineering at the University of Manchester.
Caroline Jay is a Professor of Computer Science at the University of Manchester. She is qualified as both a Psychologist (BA, CPsychol) and Computer Scientist (MSc, PhD), and undertakes research crossing these domains. She is Research Director of the Software Sustainability Institute, and a keen advocate for open and reproducible science.
Caroline is also a Fellow of the Alan Turing Institute, where she leads research into the relationship between health and the environment. She leads the Manchester arm of the BBC Data Science Research Partnership, and the Human-Centred Design theme of the 'Digital Futures' initiative. She is the Software Engineering lead for the EPSRC Human-Like Computing Network+, and ESRC Emerging Minds Network+.
Prof. Eva Méndez
Deputy Vice-President for Research Policy and Open Science, and Professor at the Library and Information Science at the Universidad Carlos III de Madrid (UC3M).
Eva Méndez holds a PhD in Library and Information Sciences (LIS) and is an expert in metadata. She defines herself in her Twitter profile as an 'open knowledge militant' (@evamen).
Eva has been a lecturer at Universidad Carlos III de Madrid (UC3M), LIS department since 1997. She has been an active member of several international research teams, advisory boards and communities including: DCMI, OpenAire, Metadata2020, RDA, etc.
In 2005-06, Eva was awarded a Fulbright Research Scholarship at the University of North Carolina at Chapel Hill (USA). She has taken part in and led several research projects and acted as advisor to many more in the fields related with standardization, metadata, semantic web, open data, digital repositories and libraries, in addition to information and research policies in several countries.
In 2015 Eva won the Young Researcher of Excellence award of her University. In November 2017 she was named "Open Data Champion" by SPARC Europe. She is currently Deputy Vice President for Scientific Policy-Open Science at UC3M and she was the chair of the EU-OSPP (European Open Science Policy Platform) on behalf of YERUN (Young European Research Universities Network).
Dr. Micaela Parker
Founder and Executive Director at the Academic Data Science Alliance.
Micaela Parker is the Founder and Executive Director of the Academic Data Science Alliance (ADSA), a community organization for data science leaders, practitioners, and educators who build and share resources for responsible data science in higher education. Before launching ADSA, Parker worked for the Moore-Sloan Data Science Environments and was an Executive Director for the University of Washington's eScience Institute. At the eScience Institute, she developed data science research and training programs, and participated in strategic planning and fiscal oversight. Based on her many years of experience, Parker now offers consulting for emerging data science initiatives in academia.
Prior to her entry into data science, Parker was a research scientist for over 10 years in the University of Washington's School of Oceanography where she managed the Center for Human Health and Ocean Studies. She has been involved in many large, interdisciplinary projects bridging oceanography and genomics. She continues to hold the title of eScience Data Science Fellow, and she is a Research Scholar with the Ronin Institute for Independent Scholarship.